In the last years there has been great interest from different cloud providers to create an Industry Cloud.
An Industry cloud is a cloud platform that has been customized to fit a specific industry in order to accommodate the different vertical challenges and opportunities. Such as tailored scenarios, legal, compliance, security, but also allowing interoperability with existing systems.
The main goal of an industry cloud is tailoring existing horizontal solutions and services, combined with specific industry services and standards, such as common data models and interoperability, aligned with industry regulation, compliance, that are also addressing industry scenarios.
It is interesting to see that this trend was already there years ago. Two years ago I wrote a blog post on Microsoft commitment to Healthcare across the 3 clouds. Since then, things have been accelerating both on technical as domain level.
In this post I am going to cover the Microsoft Healthcare Cloud. What it is and how is Microsoft enabling Healthcare customers with the Microsoft Cloud for Healthcare.
Microsoft Cloud for Healthcare
One of the first industry clouds within Microsoft, was the Microsoft Cloud For Healthcare. On the Microsoft website it states the following
Capabilities to manage health data at scale and make it easier for healthcare organizations to improve the patient experience, coordinate care, and drive operational efficiency, while helping support security, compliance, and interoperability of health data.

Microsoft Cloud for Healthcare | Microsoft
But what does this exactly mean?
To start, the Healthcare cloud is not another cloud platform, something separate from Azure, Office365, the Power Platform or Dynamics365. The idea here is to create interoperability and data fluidity in the Microsoft Cloud, combined with tailored healthcare scenarios, with the support of industry standards components and services.
To enable interoperability and data fluidity in healthcare, Microsoft has been adopting and nurturing FHIR (Fast Healthcare Interoperability Resources). This means the engineers of Microsoft Health have been creating an open source and managed FHIR server, but also FHIR tooling such as conversion, anonymization, etc. And they have been working closely with other Microsoft product teams to infuse FHIR into the different platforms.
To give some examples:
Integration into Azure, with an open source and managed FHIR server. Support for FHIR in the Azure Healthbot. Or the creation of a FHIR common Data Model in Azure Data Lake Gen 2.
Integration into Power Platform with a PowerBI FHIR connector and PowerApps FHIR connectors.

Integration into

Dynamics365 with a FHIR based Dataverse implementation, the creation of a bi-directional FHIR sync agent.
The above examples and other features allow healthcare organizations to use their data in a compliant and secure way, by leveraging existing horizontal solutions, infused with healthcare standards. It also creates opportunities to start looking at relevant healthcare scenarios, such as remote patient monitoring with IoMT, Virtual Consultations, Care Team Collaboration with Microsoft Teams, or Clinical Analytics with PowerBI and Azure Machine learning.
Microsoft Cloud For Healthcare
When looking at the Microsoft in Healthcare strategy, there are four main pillars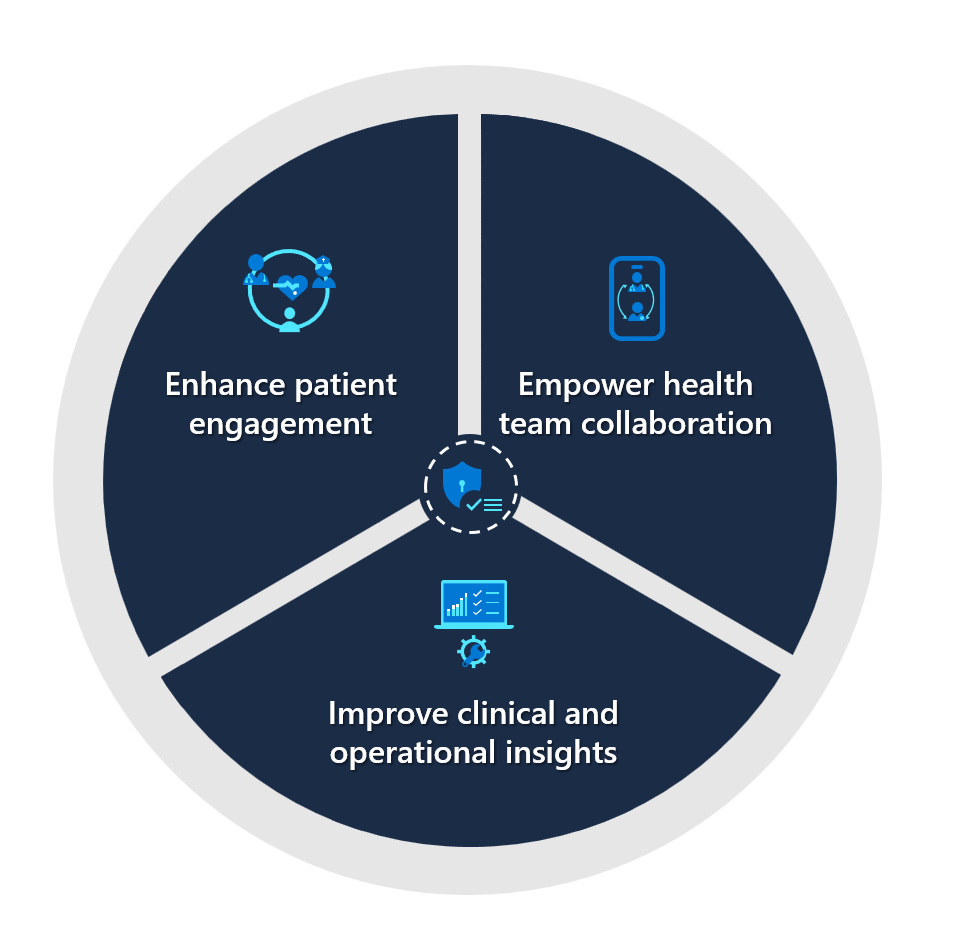 Enhance Patient Engagement: with this pilar, Microsoft is providing tools to create more personalized care with patients, combined with better insights. This will lead into new capabilities such as virtual health, personalized care, assisted triage or the usage of Digital Front Doors.
Empower Health Team Collaboration: the main goal here, is to provide caregivers the tools for better collaboration, coordination and insights. This is mainly done through Microsoft Teams as a collaboration fabric. It enables scenarios such as remote care with all the needed information at hand, by integrating the platform with existing vendors. Such as Electronic Medical Records, DICOM vendors or other healthcare partners. It also opens up the possibility for scenarios such as real time transcription in the virtual consultation room.

Improve Clinical Operations: Modern healthcare organizations have data from many sources. We all heard of the term "siloed healthcare data". With this pilar Microsoft wants to provide the tools and platform to get the data out of the silos, to get better insights into the data. This will enable organizations to start using intelligent dashboards or even explore machine learning capabilities. All with the goal to provide better care.
Data disparity combined with the pressure in security and compliance with evolving health regulations is is a key topic within Healthcare.
Protect health information: When working with PII/PHI it is crucial that all services meet the needed security measures, industry accreditation and compliance standards. That is why it is one of the core principles of Microsoft to run on trust and to make sure the platform is safe and secure.
For the first 3 pillars Microsoft has created dedicated scenarios that can be leveraged when buying the Microsoft Cloud for Healthcare Add-on SKU. For example, if your healthcare organization wants to improve the Patient Engagement, they can use and modify one of the predefined scenarios such as patient outreach, patient access or patient service center.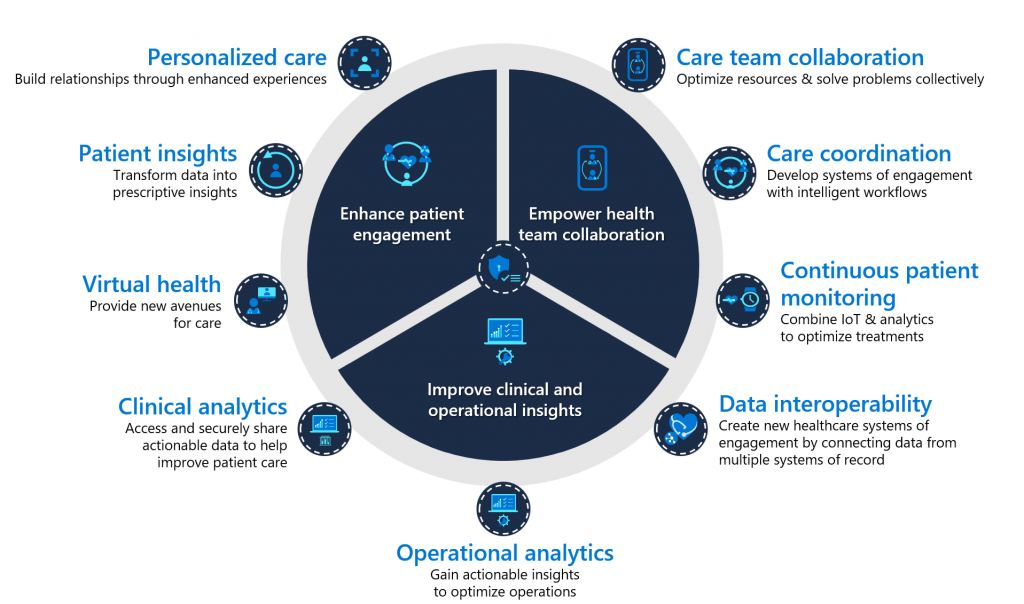 For each of the pillars and scenario's, there are ready to use templates that an organization can use, you can find more information here.
Nurturing the Healthcare System
Next to the Add-On SKU and pre-defined scenarios in the Microsoft Cloud for Healthcare. Microsoft is also providing tooling and services outside the Add-On SKU, which gives healthcare organizations the capabilities to start innovating at their pace, without going all-in, from day one.

Healthcare organizations can start using the Azure Healthcare Bot, which can be easily integrated in other tools such as the Teams platform or Microsoft Dynamics 365 to enable conversational intelligence.
The Healthcare Portals or Power Apps can easily be created with the Power Platform to improve clinical and operational efficiency. Healthcare organizations can get the needed insights with the PowerBI FHIR connector and create rich dashboards in hours, instead of days. Microsoft also extended their Cognitive Services with Text Analytics For Health, which extracts and labels relevant medical information from unstructured texts such as doctor's notes, discharge summaries, clinical documents, and electronic health records.
And healthcare organizations can enable their data by moving FHIR data to analytical stores such as CDM folder on ADLS Gen2, Azure Synapse, Azure SQL, and Azure Machine Learning.
Not to forget, and maybe the most important element is the Partner Ecosystem. Microsoft wants to be the most secure, trusted and compliant platform within Healthcare. It is impossible to be successful without the collaboration and trust from dedicated Healthcare Partners. In the last years Microsoft has worked with numerous partners, big and small to realize the strategy and support their customers in the best way possible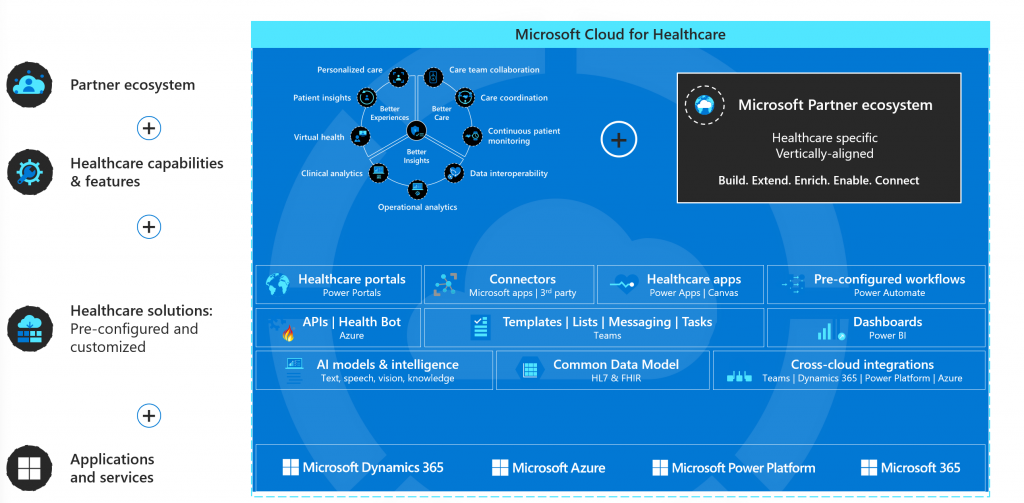 Data Interoperability and fluidity
A crucial part with these capabilities is to provide the functionality and tooling to extract and transform data from different sources – on the edge or in the cloud – and transform this data into an industry standard format. which then can be saved in a compliant and secure way, to then be used for clinical, operational or research purposes.
The image below visualizes some of the tooling that Microsoft currently has available to enable interoperability.
Good to know is that some of the tooling can be run on the edge, as data sometimes needs to be anonymized or pseudonymized before sending to the cloud. This can easily be done by running containers on the edge. Or using Azure ARC to manage and govern with a central control plane.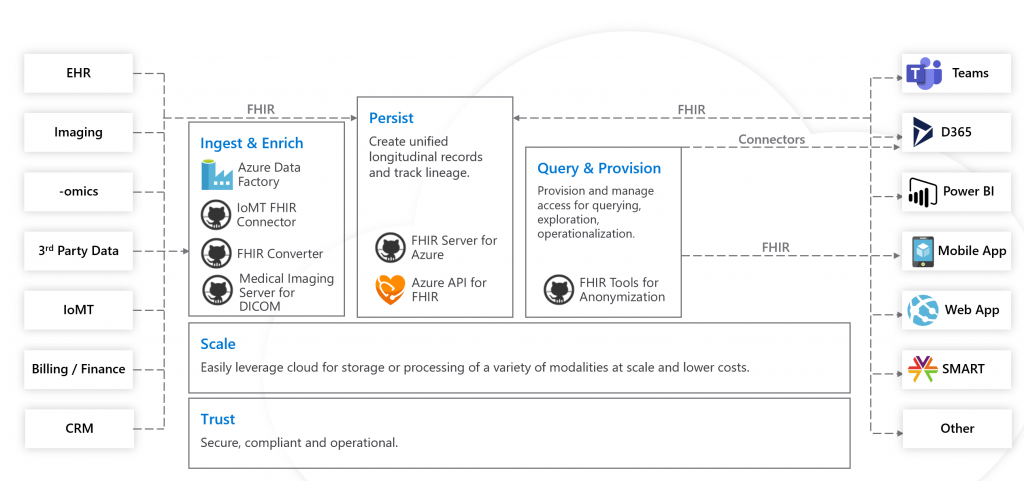 I am humbled and excited to be part of the digital transformation journey in Healthcare. I believe that technology is one of the essential factors that will improve the care for patients, reduce the burden on our caregivers and transform from from sick care to health care. And a Healthcare cloud is definitely one of the steps in the right direction.
Bert
Sources